Published on 10-12-2013 01:44 AM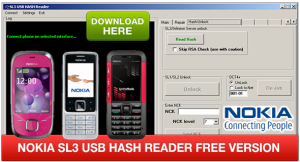 Its possible now to unlock Nokia SL3 phones. For the moment its possible in all Nokia SL3 based phones, except those that have 20 digit NCK code.
The unique way to know if its possible is trying to unlock it but dont worry if you try to submit requests for those phones you will NOT GET A REFUND!!!
Our Time frame needed to unlock single phone is usually between 4 - 24 hours

User interface is easy and convenient to use and provide full control over your logs. At any time you can check the progress, temporarily cancel the log or resume it again.
We support log files of all available boxes in the market, except Dejan logs.
We are constantly upgrading servers and optimizing software to provide best service for you.

How to find HASH from Nokia SL3 phones :
...